Once you get past the halfway point in pregnancy, it's really time to sit down and start thinking about and planning your baby shower. It's so exciting, but there are lots of things to consider…Who will host it? Where will it be? What time? The list of questions goes on and on.
Once you have the big questions answered, it's time to think about all of the fun stuff, and we've got you covered! If you are planning on having a baby shower, we've got all the winter baby shower ideas including themes and invitation inspirations, party favor ideas, tips for a shower on a budget, and so much more!
At Bless Our Littles, we like to talk about things we love and think you might enjoy too. Some of the links on this page may be affiliate links (see disclosure here). This means we will receive a commission if you click on a link and make a purchase. This is no extra cost to you. There are some products we have tried and others that we haven't but think would be helpful to you!
6 Winter Baby Shower Theme Ideas
Invitations are the most important part of the baby shower. They really are the cornerstone that inspired the entire theme and vibe that you are going for. So, we've compiled the 6 cutest winter baby shower themes! Each theme is organized with an invitation for a girl, boy, and gender neutral option for colors and design inspiration!
1. Baby, it's Cold Outside
This theme is inspired by the infamous song, "Baby, It's Cold Outside" by Esther Williams and Ricardo Montalban. It's an adorable play on words while keeping with the winter theme! There are so many different looks and ways you could play with this theme.
Invitation Inspiration:
The adorable subtle hint of pink in the midst of the Christmas tree and touches of gold is classic and simply beautiful!
This take on "Baby, It's Cold Outside" gives off a more whimsical feel while sporting some light blues and greens that hint at your precious little one being a boy!
This invitation is perfect for either gender with the white, twinkling lights with the light wood finished background!
2. Winter Wonderland
Sing it with me…."Walking in a winter wonderland…" Another classic song turned into an adorable baby shower theme! We don't know about you, but we can't help but picture pure whites and beautiful silvers and golds to brighten up this theme. Perfect for either gender, it's a beautifully simple winter theme idea!
Invitation Inspiration:
The incorporation of show-stopping flowers with silver and sparkles is perfect for the winter-themed celebration where the mom still wants the feel to be more focused on baby girl with just a hint of winter vibes!
Lots of glitter and blue make this invitation great for the girly mom who also wants to make sure her guests know that they are celebrating her baby boy!
Whimsical and precious animals are not only great for either gender, they're also great for the mom-to-be who wants her winter theme to be sweet and subtle!
3. Little Snowflake
This winter baby shower theme idea is perfect to show your guests that your baby is just like a precious snowflake, perfectly tiny, unique, and filled with promise and hope!
Invitation Inspiration:
We can't say enough about this gorgeous invitation! It has everything: the adorable deer, florals, sparkly gold, and so much more! It's trendy, wintry, and everything a future-girl mama would love!
We love the darker blues and precious animals for this invitation! What a fun and perfectly executed design! Not to mention that this comes in both pink and blue so it could be used for a boy or a girl.
This gender neutral invitation is simplicity at its finest! White, gold, and silver are all you need to carry out a beautifully and tastefully decorated baby shower for your precious little one!
4. Bundle of JOY
We absolutely love the play on words with this theme idea. Christmas time is notorious for being a time of great joy, and what better joy than the miracle that you are expecting arriving around one of the all-time greatest joys, Jesus's birth? This winter baby shower theme is more Christmas-themed with the traditional greens and reds!
Invitation Inspiration:
This Bundle of JOY theme is more on the playful side with traditional Christmas decorations in nontraditional colors like soft pink and mint.
What doesn't scream boy and Christmas like an old-fashioned truck filled with Christmas trees? What's not to love?
It's so easy to go gender neutral with a lot of winter themes because Christmas colors are green and red. Here's the perfect example of incorporating Christmas colors in order to be gender neutral and beautifully traditional!
5. Winter Greenery
This theme is less about a play on words, and more about the beautiful simplicity that is winter time. Tastefully decorate and plan your theme around all of the beautiful winter greenery that nature has to offer!
Invitation Inspiration: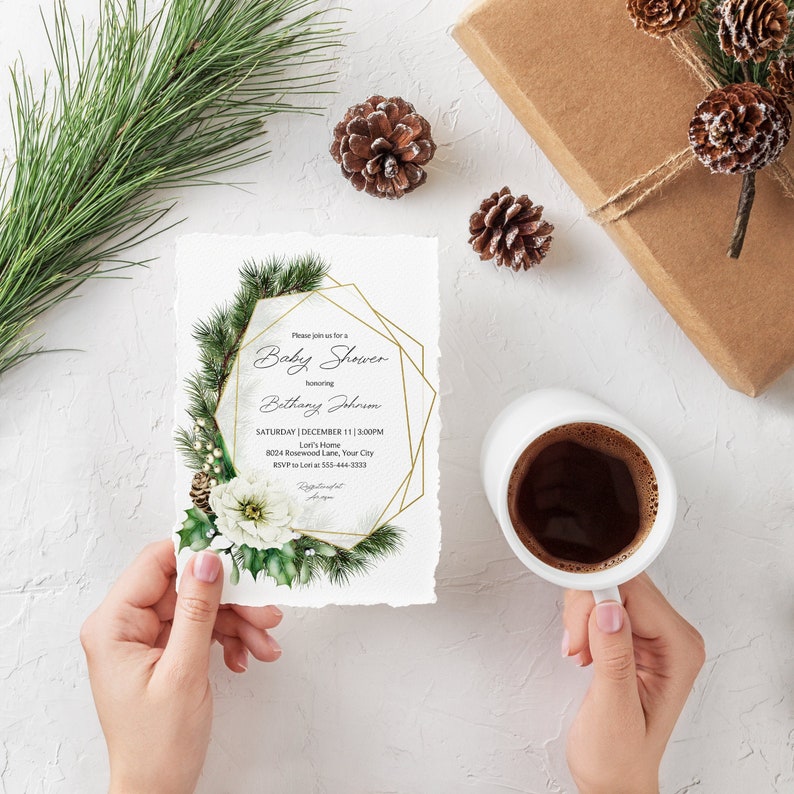 The greenery on the wreath mixed with the beautiful and ornate flowers is just so elegant. It leaves a lot of creativity with how you may want to decorate for the shower while also letting guests know that a little girl is on the way!
Another understated and simplistic design that lets guests know the theme without being too over the top and showy! Sometimes, less is more when it comes to a beautifully done invitation!
If you're looking more traditional, you can show off winter greenery with this invitation that has a classic wreath encasing the text. Straight to the point and classy!
6. Rustic Winter
Invitation Inspiration:
Lastly, you can always make your winter celebration more of a rustic vibe! Rustic winter is beautiful and filled with natural wood colors and themes that are more robust and give off a strong feeling!
The wood background on the invitation gives it the rustic feel while the pink and white glittery snowflakes gives it the girly touch!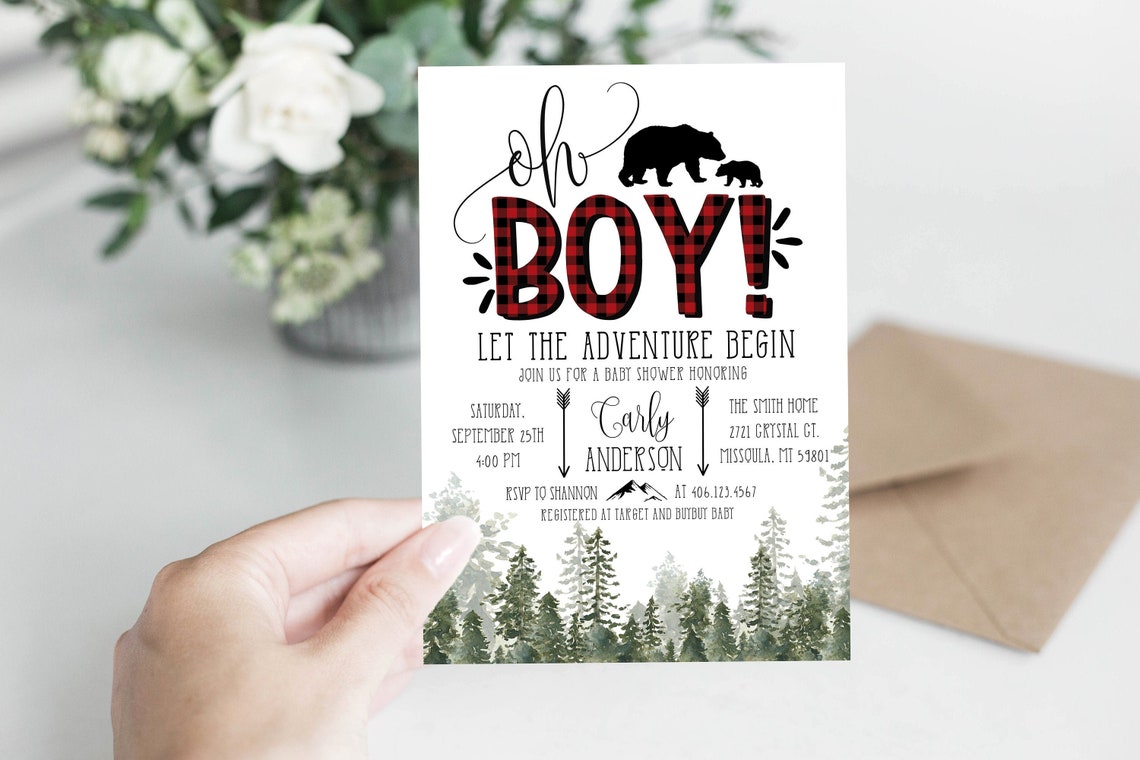 We absolutely love this lumberjack spin on a wintry, rustic scene!
Rustic and whimsical, this gender neutral design features a wreath,baby deer and other woodland creatures while still giving off a winter vibe!
Decoration Ideas
Decorating for your winter baby shower should be a breeze! Simply take the main color from your invitations and incorporate it with as many winter/Christmas decorations that you can. The following are always perfect…
● Wreaths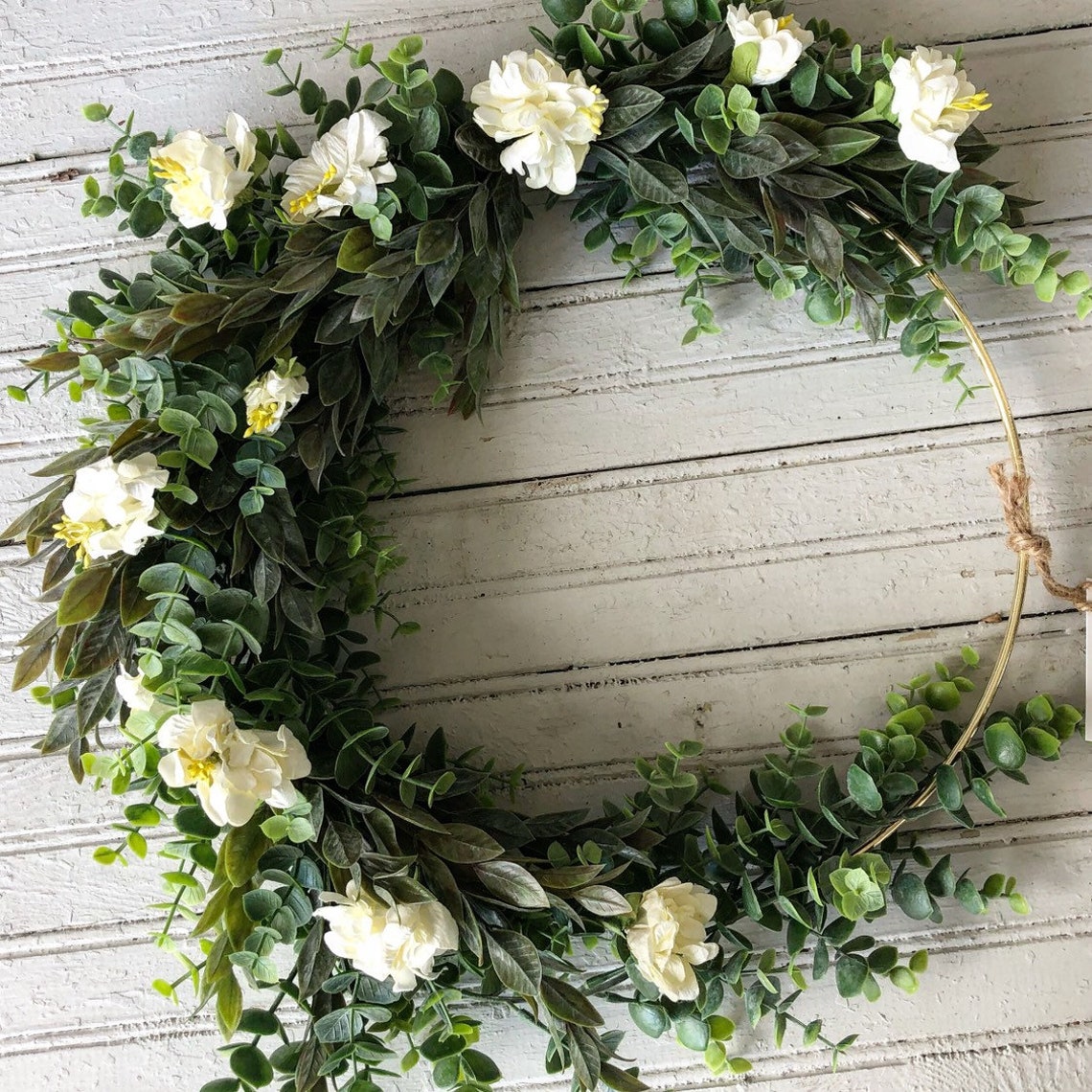 During the winter months, wreaths can be found anywhere! Whether you want traditional Christmas ones, green ones, white ones, or rustic ones with sticks, there is a wreath to perfectly match your baby shower theme! You can put them on the front door upon entering the shower or you can use it as decor on the wall. They're versatile, easy to find, and perfect!
● Banners
Banners at baby showers are always a must-have! You can get them custom to your theme, and they are a perfect way to tie your entire shower together! You can display them on a feature wall above the food or on a mantel in the home or venue!
● Twinkling Lights
What's a winter baby shower without twinkling lights? There's so much versatility with the decoration idea! You can hang twinkling lights from a mantel, from the food or present display table, around a doorframe, and so much more!
● Christmas Decor
Lastly, baby showers around Christmas time are perfect and easy to decorate because you can utilize Christmas decor that goes with your theme! Christmas time is one of the most decorated holidays, and you can definitely use this to your advantage! If there is more than one hostess, you all can get together, look through the Christmas decorations you already have, and put together a gorgeous shower!
Menu Ideas
When you think about food, think simple and delicious! Here are a few of our must-haves for any winter baby shower…
● Hot Chocolate
What's a winter party without a signature winter drink like hot chocolate? It's delicious, it's warm, and you can even make mini "snowmen" out of marshmallows for guests to dip into it! You just can't go wrong!
● Custom Cookies
From ornate white snowflakes to adorable little reindeer, there is a custom cookie out there that will perfectly match your theme! Custom cookies tie your party together in an adorable and delicious way!
Sometimes with your menu, you need to just think outside of the box. For example, this snowman cheese ball takes something that would ordinarily be found at a baby shower and turns it into a unique conversation starter that your guests will adore!
Game Ideas
Games keep guests entertained and make your day to celebrate your little one memorable! Here are our ideas for some winter-themed games…
There are many places where you can find pre-made printable games for your guests to enjoy! From guessing games about the baby to finding out more about the guests, there are so many amazing options in game printables! You can even find printables that perfectly match your theme!
● Find Santa
If you're going for more of a Christmas theme, you could have a hidden santa somewhere amongst the decorations. Maybe the first person to find Santa wins a special prize? Even if you're not going traditional with a Christmas theme, you could always hide another winter-themed item such as a snowman, snowflake ornament, or even a cute, stuffed penguin!
Favor Ideas
Some moms-to-be want their guests to have something as a token of appreciation for coming and celebrating the quickly approaching arrival of their precious angel. If this is the case, there are so many wonderful party favor ideas out there, and these are some of our favorites…
● Custom Cookies
Like we said earlier, you just can't go wrong with custom cookies! Giving your guests something they can eat on the ride home is amazing! Giving them something that they can eat on the ride home that is adorable, delicious, and ties perfectly with your theme, is absolutely incredible!
We all know that the winter months bring unwanted sickness and the dreaded flu season. What better parting gift than an adorable hand sanitizer that is custom made with your party-theme? This party favor will keep your guests smiling and germ-free!
These winter-themed to-go boxes are adorable and perfect! You can fill them yourself with goodies and momentos, or you can set up something fun like a candy "bar" filled with custom candies that match your theme and allow your guests to fill their box as a "thank you!"
4 Tips for a Baby Shower on a Budget
Chances are, if it's winter time, many people are spending their money on Christmas presents for family and friends. So, when it comes to hosting and paying for the celebration of your little one's arrival, money may be a little tight. Here are some ways you can save some extra cash and budget accordingly…
1. Spread the Love
We mentioned this in our post on fall baby shower must-haves as well because it is so true! The easiest way to save money without skimping on quality is to invite more people to host. The more friends and family that are pitching in, the less they will each pay in the long run because they are splitting the costs!
2. DIY
If you're trying to save money, places like Hobby Lobby are your friend! If you're going for a winter wonderland look, silver spray paint and glitter are your best friend! Use the Internet, find some adorable DIY decorations, and just watch how much money you will save! You'd be surprised at how easy some of the most adorable decorations can be to make!
3. Use what you have
As mentioned earlier, Christmas is one of the most decorated holidays. People have boxes upon boxes of Christmas decor in their attics and basements that are just begging to be used! Before you go out and buy decorations, check around with other hostesses, friends, and family, and see what you guys can come up with!
4. Less is More
If money is really tight, just stick to the essentials. Do you NEED party favors for a successful baby shower? No. Do you absolutely NEED custom cookies? No. At the end of the day, the mom-to-be isn't going to remember how many decorations you had up or how much food was served. She's going to remember how all of the people in her life that she loves most came together to celebrate her most precious gift of all.
In Conclusion…
Planning and hosting a baby shower is so much fun! You are literally getting to celebrate one of life's biggest gifts that God has blessed your friend or family member with! While any baby shower is fun, winter baby showers seem a little more special and magical!
Below is a Pinterest friendly photo… so you don't lose this post!
Other Posts You Might Enjoy…..
Unique Gender Reveal Ideas – 13 Ideas You Wish You Thought Of First>>> Click Here
Hosting A Virtual Baby Shower – How To Throw a Memorable Party>>> Click Here
Baby Shower Etiquette: How to Have the Best Party>>> Click Here