After finding out you are expecting a new little bundle of joy, one of your first thoughts is how should I tell our friends and family? While there are plenty of cute ways to share your exciting news, it can be extra fun to tie your announcement in with the holiday season. If you are due in the summer months, here are 16 Christmas pregnancy announcement ideas that will be the perfect way to spread some extra holiday cheer!
16 Best Ways to Announce Pregnancy at Christmas
The following ideas are excellent ways to make a Christmastime announcement to family, friends, coworkers, or anyone else you want to share your news with!
Jump to Announcements for…
A Newborn Onesie
Pictures that feature a darling little newborn onesie are a classic way to announce your pregnancy. The text and design options are endless, and Christmas themed onesies are no exception! Your picture could also include an ultrasound picture, some Christmas decor, or other baby items for your little one on the way.
Here are a few of our favorite Christmas pregnancy announcement onesies: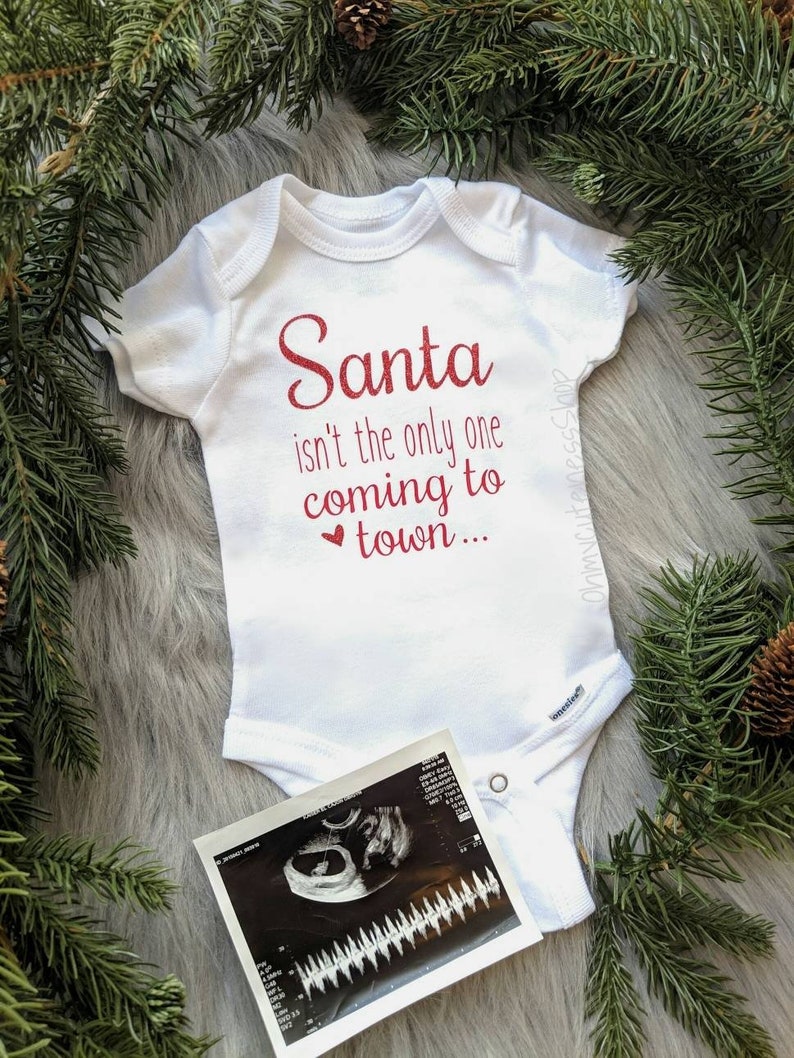 Christmas Cards
If you have an ultrasound picture, adding your little one to your family Christmas card is a super cute way to make your announcement! There are a couple of ways you could do this. If you already plan to have family photos taken, be sure to get a few shots with you and/or your partner (or older children!) holding the ultrasound picture. If you've already done pictures or plan to send just cards, you can easily print off copies of an ultrasound picture to include in the envelope with a special message to explain!
Santa Said Yes!
If this isn't your first baby, incorporating a big brother or sister is a fun way to make your Christmas pregnancy announcement! Create a chalkboard, letterboard, or poster board sign for your kid(s) to pose with that either says "I asked Santa for a baby for Christmas, and he said YES!" Or, to put a different spin on things, the sign could say "I asked Santa for a (favorite toy) for Christmas, but he's sending me a baby instead!" This could work for a social media post or a picture to include in your Christmas cards!
---
For Husband/Spouse
Before you spread the word to family and friends, you will probably want to tell your spouse! If you have the patience and self-control to keep the news to yourself for a few days, here are some fun announcement ideas to incorporate. Keep in mind that while some of these suggestions might be most fitting for Christmas morning, you may want to put them into action a few days (or weeks) earlier if you are also hoping to make an announcement at your family holiday get togethers!
No More Silent Nights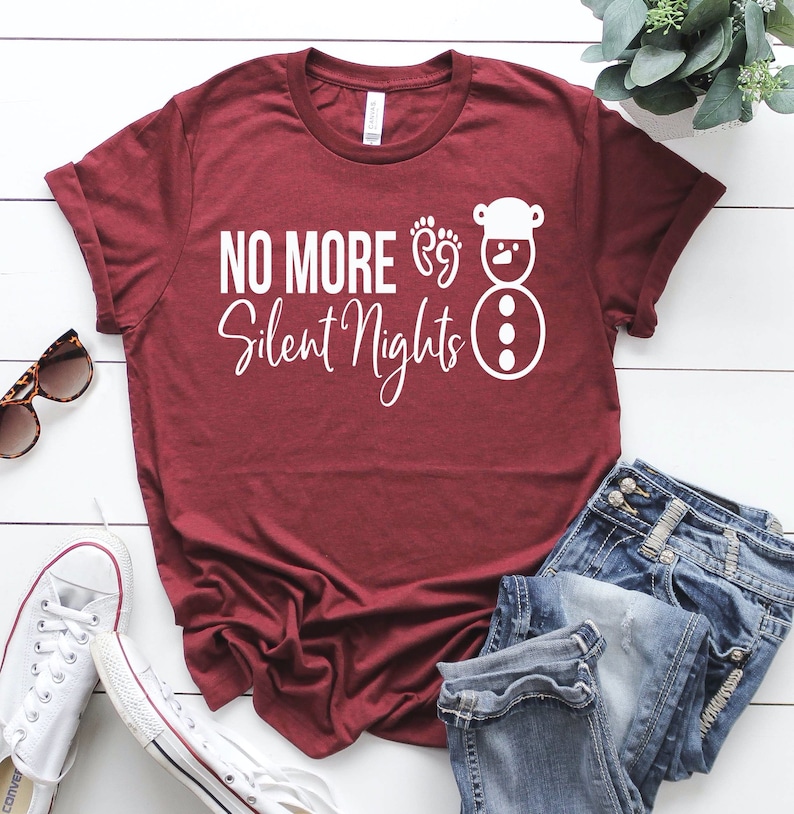 One cute way to let your husband in on your upcoming adventure is this adorable (and all too true!) No More Silent Nights t-shirt from Etsy. The message is a bit on the subtle side, so if he doesn't notice the message right away, just ask him what he thinks of your new shirt to (hopefully) get the anticipated reaction!
Pregnancy Test Turned Gift
While there probably aren't many people who would appreciate a pregnancy test as a gift, hopefully your husband is one of them! Stick a positive pregnancy test in a stocking or gift bag to gift him. (If you didn't save the original one, just get another one!) If the timing works out, this one is perfect for a Christmas morning surprise!
Best Dad Ever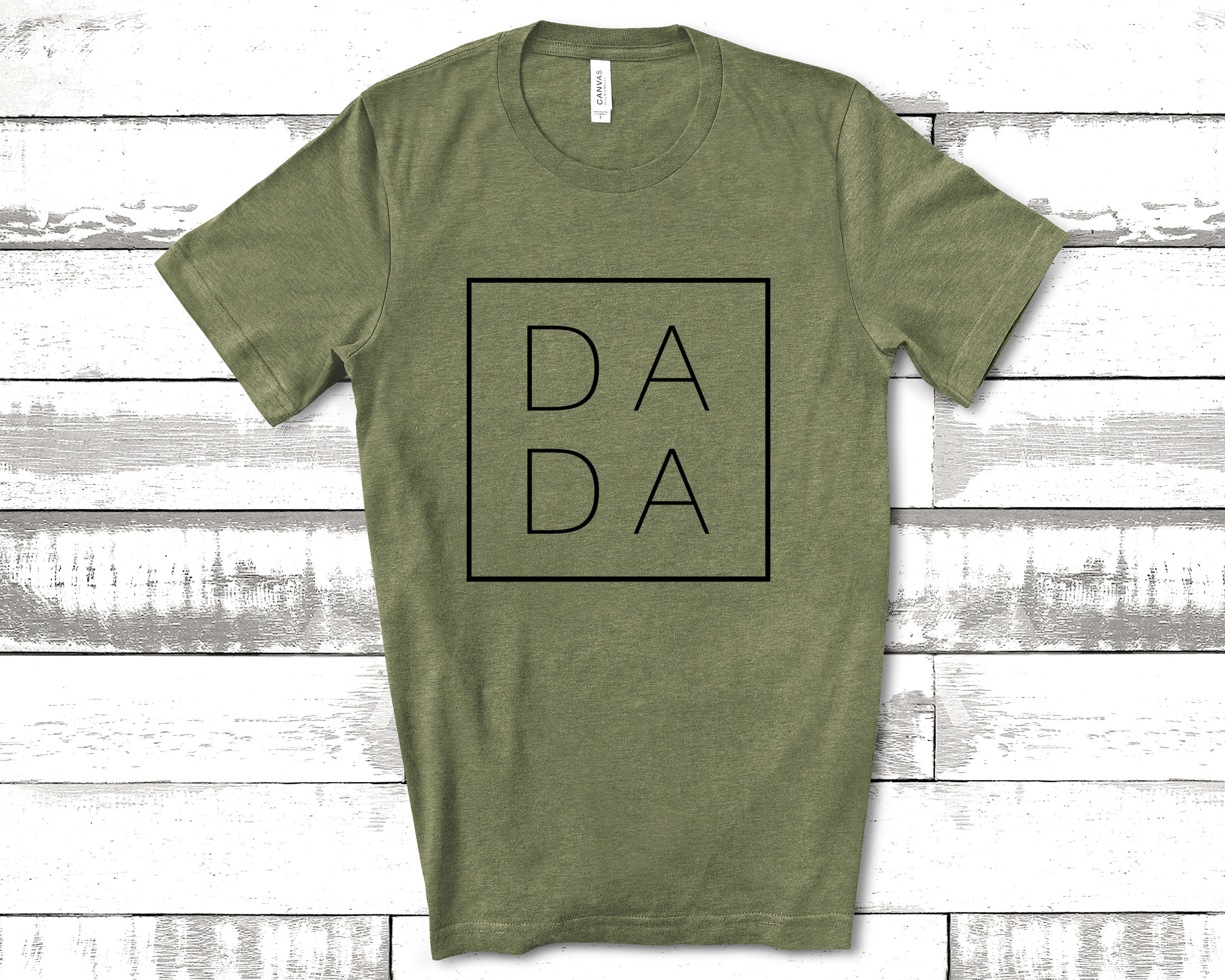 Another great way to "gift" your spouse the excitement of your coming little one is with a Dad-themed t-shirt. The options are endless, and include messages like DADA or SuperDad.
Christmas Morning Surprise
If you have the time and energy to put together a fun and suspenseful surprise like the one in this video, it will be a memory you will both cherish forever! If all goes as planned, you could save the video to send to family and friends, or post it on social media to let everyone else in on the good news!
Sports Fan Surprise
Is your husband a sports fan? If so, this is the perfect way to clue him in that a baby is on the way! Buy a child-size ball or jersey for his sport of choice, and give it to him as a Christmas gift. You could include a cute note about the "newest teammate coming soon" or just let him figure it out for himself!
---
For Family
If the timing is right, making an announcement at a Christmas family gathering can be lots of fun and add an element of excitement to the merriness of the holiday! Here are a few clever ideas to incorporate your pregnancy announcement into your family Christmas celebration.
T-Shirt Gifts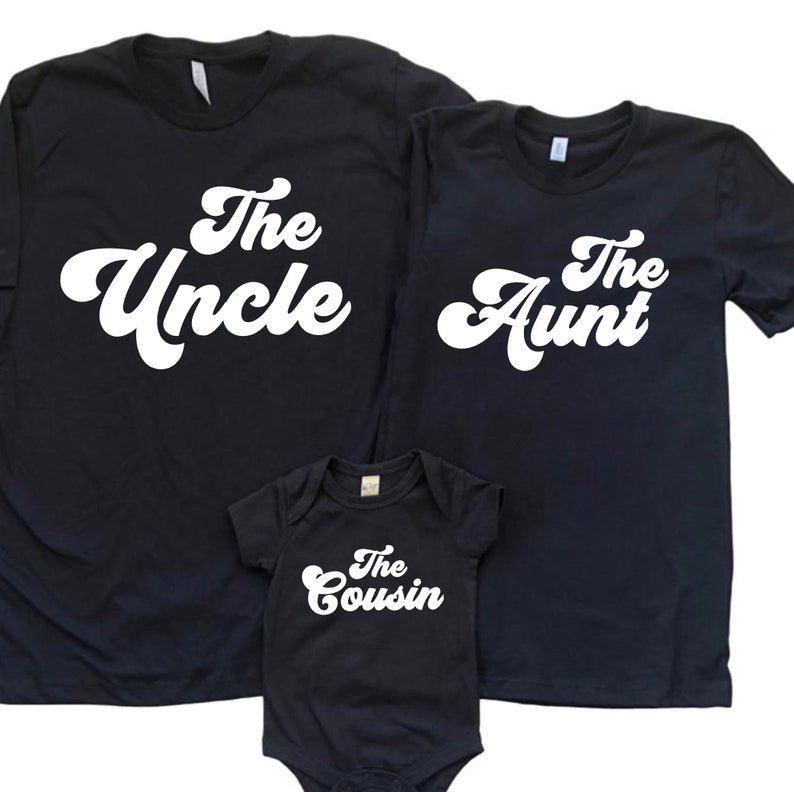 If you will be exchanging gifts with your relatives, these family t-shirts are an adorable way to notify everyone of their new "roles" as aunt, uncle, cousin, etc. Just make sure to have everyone open their gift at the same time, for the best effect! If you go this route, plan to get a "mom" and "dad" t-shirt as well, so you can take a family photo with everyone sporting their new gifts! (This will make a great memory to include in your baby book and could also double as a social media announcement picture.)
Baby Stocking
If stockings are part of the decor wherever you celebrate Christmas with your family, buy a tiny baby stocking and discreetly add it to the mantle! If you are unsure whether or not family members will catch on, use a fabric marker to add a cute message about the baby on the way.
Mom & Dad Shirts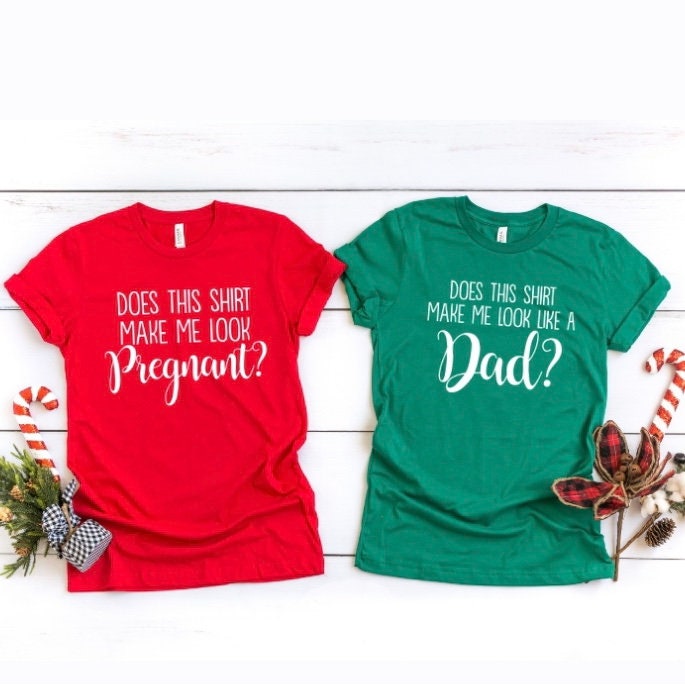 These couples shirts are a super cute way to make your Christmas pregnancy announcement, and they will be sure to get a great reaction at your family gatherings! As an alternative option, you could have a photo taken of you and your spouse wearing them to send out to family via mail or text. (This is a great choice if you won't physically be with family to celebrate.)
Sibling Shirt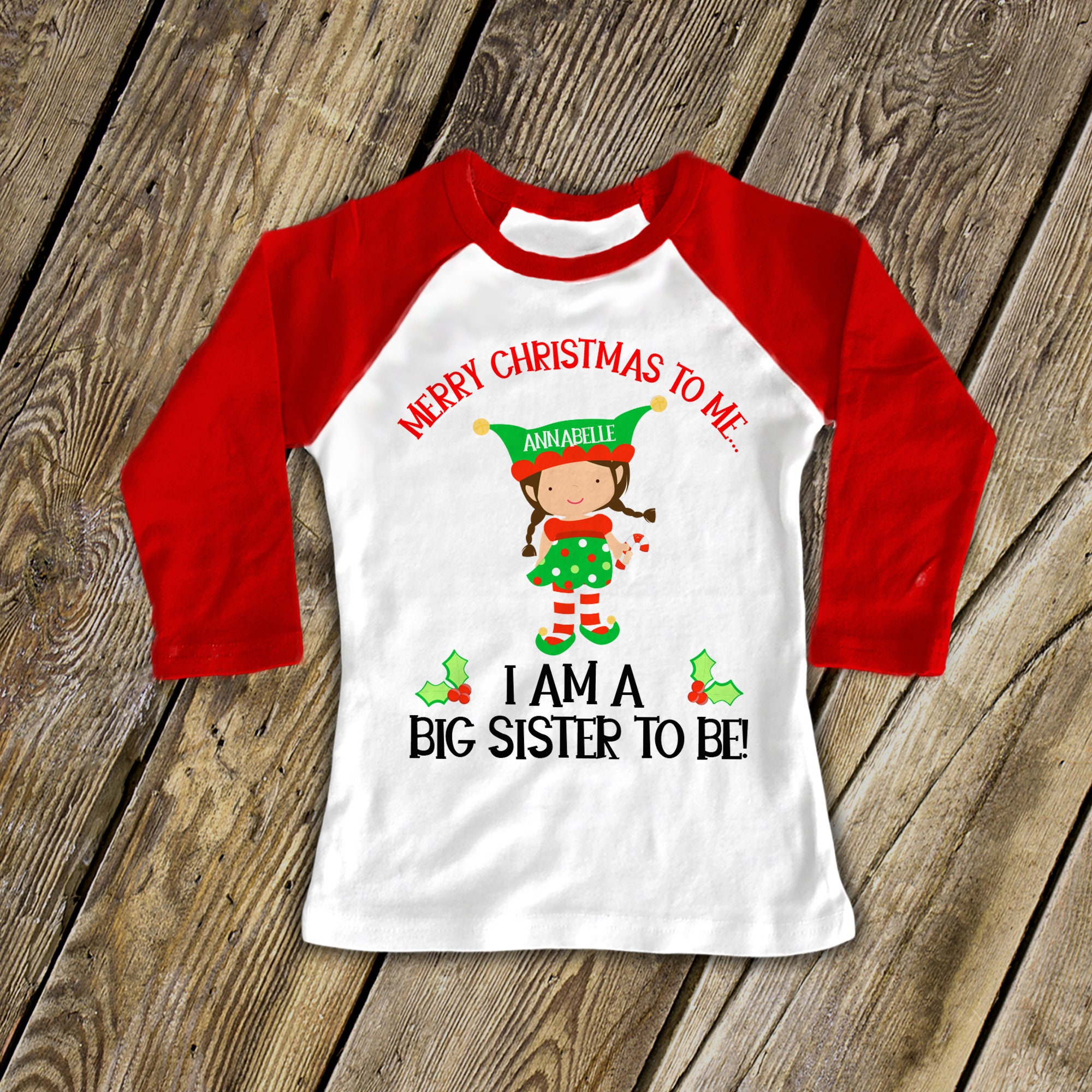 If you have older children, these big sister and big brother shirts are a great way for big kids to join in the fun! You could show up to family Christmas with everyone wearing an announcement shirt, or you could just leave it up to the kids to spread the good news that another baby is on the way!
A Puzzle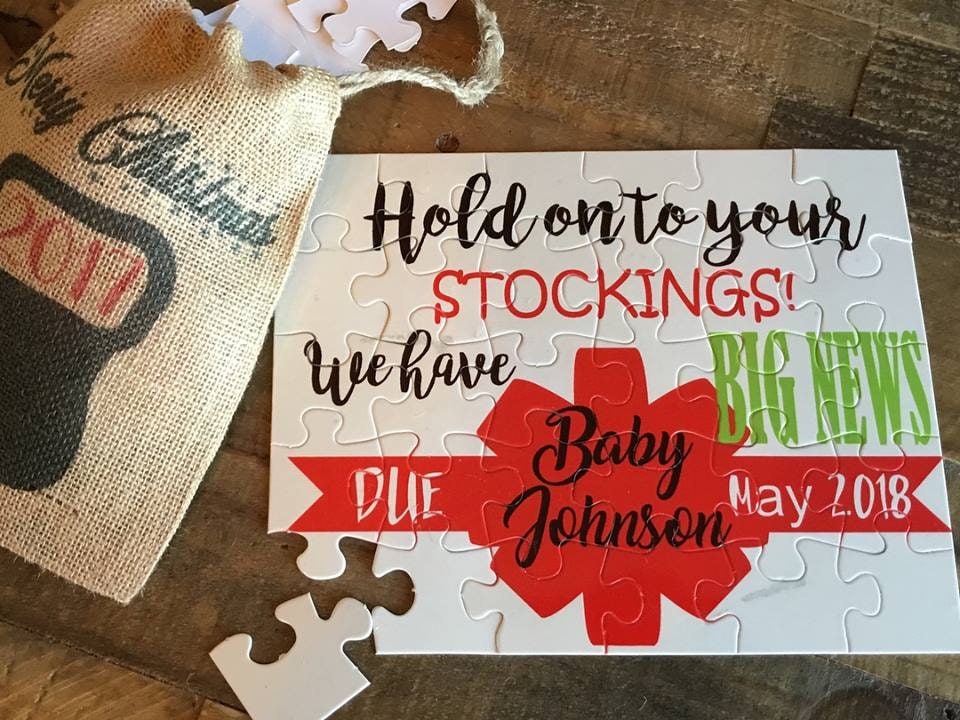 Whether your family typically enjoys puzzles and games as part of the Christmas celebration or you want to introduce this as a new tradition, a puzzle with a message is another good way to tell everyone about the baby on the way! This customizable puzzle from Etsy is a wonderful option, or you could use Shutterfly to design your own using an ultrasound picture or another photo that explains the good news!
---
For Grandparents
There are endless possibilities for Christmas pregnancy announcement gifts for the new (or repeat) grandparents! Here are a few of the best.
Christmas Ornament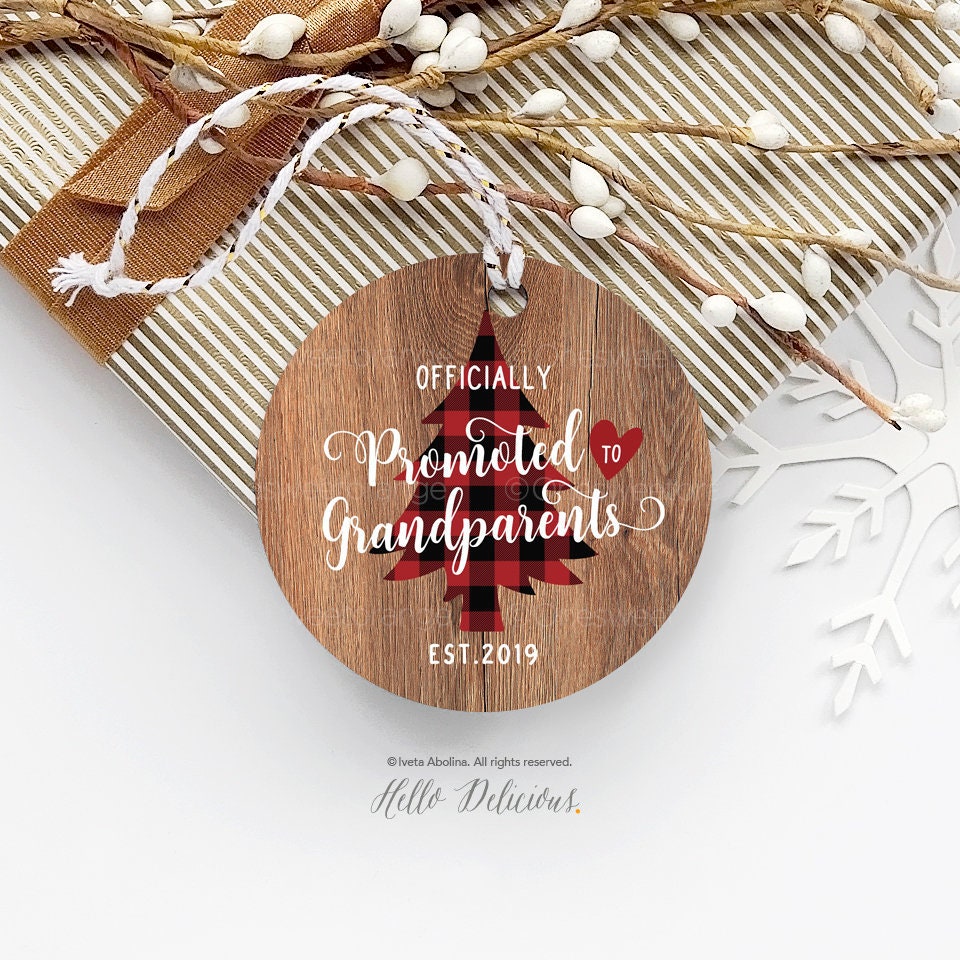 An ornament is a great, simple way to share the news with grandparents! There are some gorgeous, customizable options on Etsy, or if you are feeling crafty, you can make your own! You can give these ornaments as a Christmas gift or sneak one onto grandma and grandpa's tree for them to find.
Reveal Card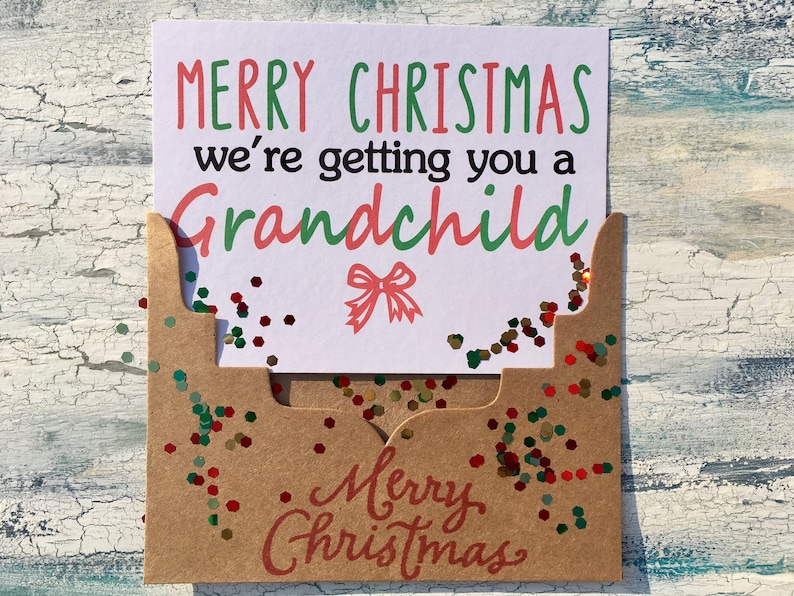 These charming pregnancy reveal cards are a simple but cute way to let your parents and in-laws know about their upcoming upgrade to grandparents! Or, if you prefer to add in some of your own creativity, you can use this as inspiration and design your own reveal card.
Baby Supplies Gift
Gifting a baby item to the future grandparents is another clever (and practical) way to spill the beans. The gift could be anything from a pack of diapers to a high chair or a pack and play. This will, of course, depend on the level of involvement you anticipate grandparents having (obviously if you don't anticipate baby napping at their house, a pack and play would be a bit excessive).
Grandparents Onesie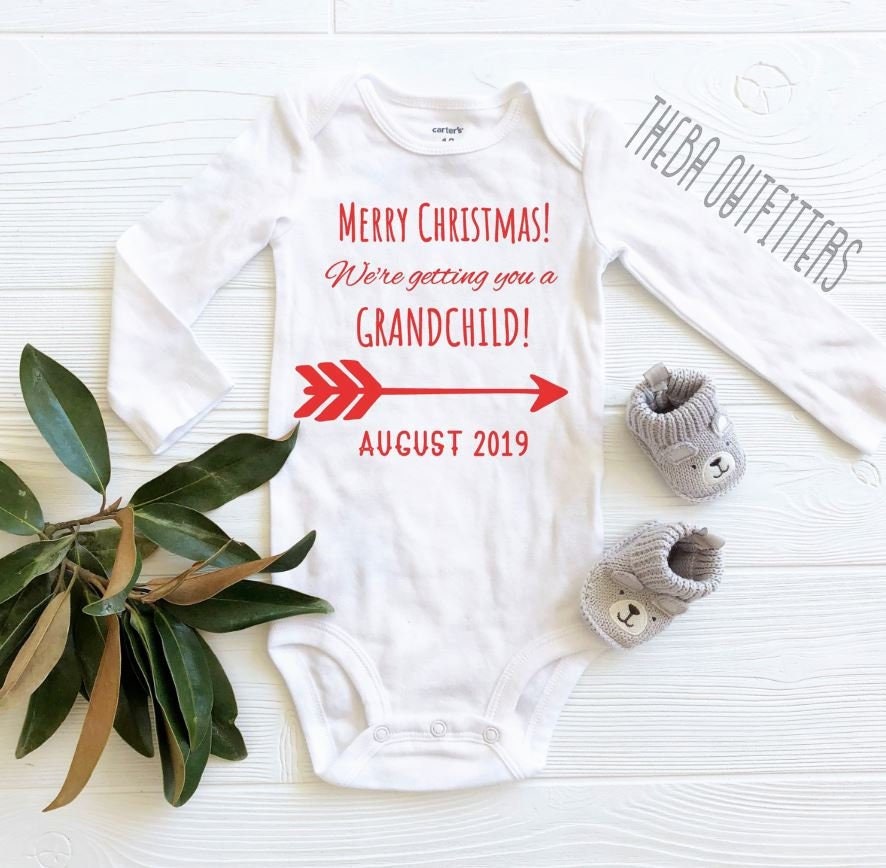 This cute onesie is another great gift idea for sharing the news with your parents or in-laws. You could pair it with one of the above ideas, or gift it on its own. Either way, it's sure to be the most cherished gift of the year!
In Conclusion…
Deciding how to announce the upcoming arrival of your little one can be a lot of fun, especially at Christmastime! To make sure you enjoy your Christmas pregnancy announcement as much as everyone else will, don't worry too much about creating the "perfect" plan. After all, no matter how you spread the news, your family and friends will be excited to celebrate with you!
Other Posts You Might Enjoy…..
Fun Dates While Pregnant – 14 Out of the Box Ideas for Expecting Couples!>>> Click Here
13 First Trimester Must Haves – What I Learned From My Pregnancy>>> Click Here
The Sweetest First Time Grandparent Announcement Gift Ideas>>> Click Here