What a better way to start out a new year than with the promise and excitement of expecting a little one! New Year's Eve is such a special time in which people take the time to reflect on the past and look ahead to their future. To find out that you are expecting around this time makes the tradition even more special!
You have the most exciting thing to look forward to in the coming year…a baby! If you find out that you're expecting around New Year's, you should definitely take advantage of all the celebrations to announce the biggest news of the year!
In this article, we're going to be looking at the New Year's pregnancy announcement ideas that are sure to make your family and closest friends have even more to look forward to in the upcoming year! We've got you covered from in-person to virtual announcements!
In Person New Year's Announcements
Typically, when a couple finds out that they are pregnant, they want to share their exciting news with those that are closest to them in person! Of course, distance and other factors may prevent you from doing so, but if you're planning on sharing the news in person on New Year's Eve or New Year's Day, here are some really fun and creative ideas…
Wearing your exciting new is one of the most classic and fun ways to share that you're expecting! If you're heading to a New Year's party, get an adorable and festive shirt like this one! It's so fun to see which family member or friend will be the first to notice what it means and what the actual countdown will be in your life!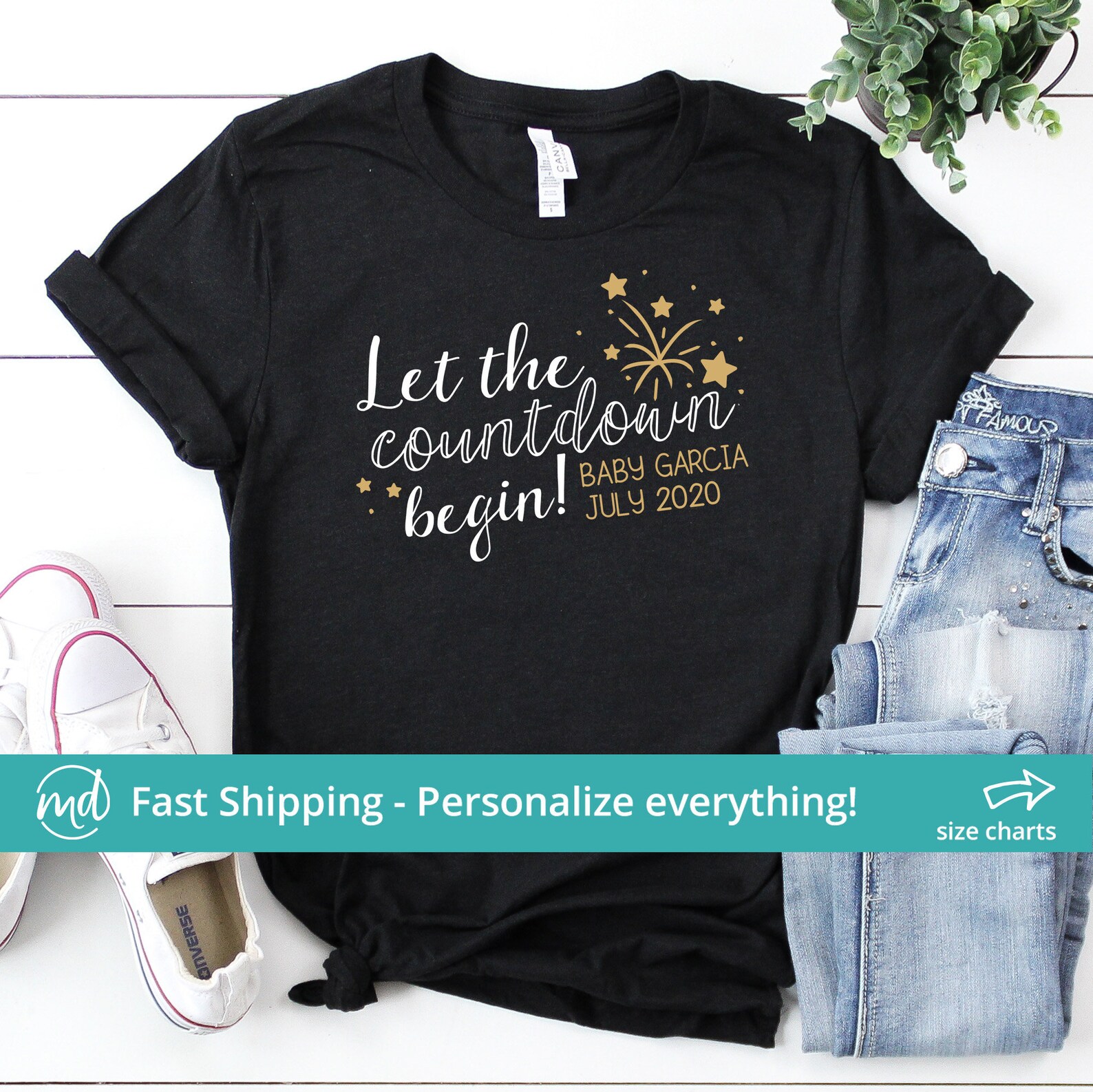 Apart from wearing your news, gifting a friend or family member with a onesie is just as classic and exciting! What would be perfect is if the person you wanted to tell most was hosting the gathering, and you offer this "gift" as a thank you! Then, just wait and watch their faces light up with surprise!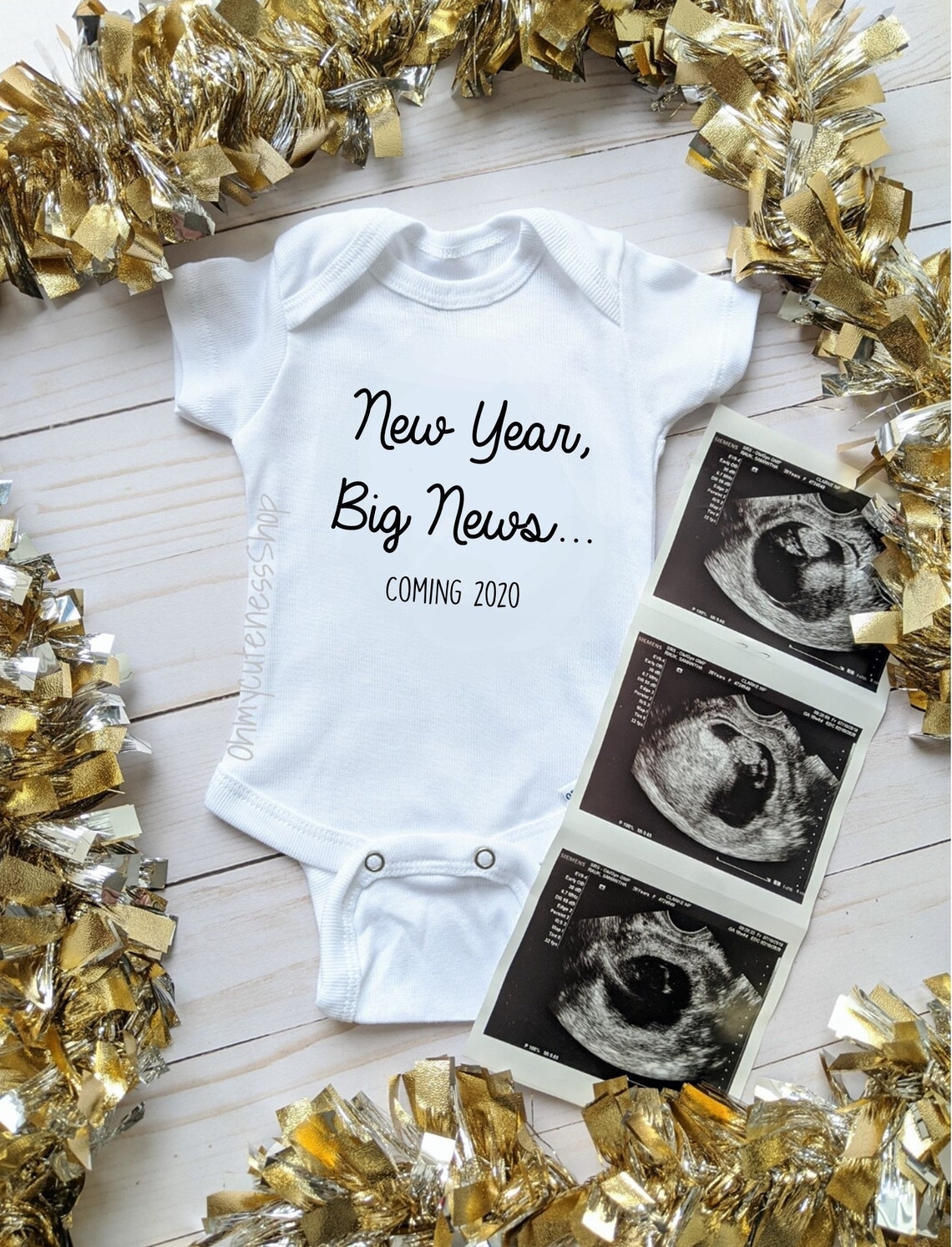 3. Resolution Game
Maybe you want to go a more non traditional route to let everyone know that you're expecting? You should try the Resolution Game! All you do is have everyone write down one resolution on a piece of paper. Put all resolutions in a hat, and take turns pulling them out, reading them aloud, and then guessing who they belong to. Obviously yours will say, "have a baby"!
Watch your group of friends go from confused to happy to absolutely thrilled in a matter of seconds! They'll never see it coming!
If you are hosting a New Year's get together, you could simply take this adorable sign and hide it in plain sight! For example, you could incorporate it in the decor on your mantle, and then simply wait for someone to notice it! The first person to notice will be sure to spread the news with everyone fast through their squeals of excitement!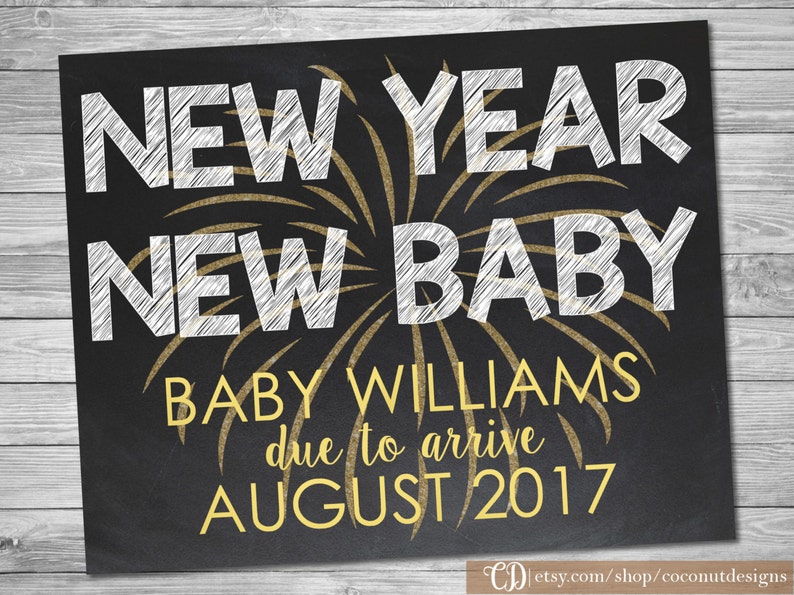 5. Countdown Surprise
Another huge tradition on New Year's Eve is the countdown to midnight and the new year. Why not use this long standing tradition as the perfect time to announce your pregnancy?
Instead of shouting, "Happy new year" with everyone else, you and your partner can shout, "We're having a baby!" After you shout your announcement and share your New Year's kiss, be sure to look around and see all of the reactions around you! I'm sure their faces will be filled with shock and excitement! What a way to start a year!
6. Posing for a Picture
What's a New Year's Eve party without a ton of pictures with your friends and family? Take advantage of the ever popular photo op to have everyone say, "We're having a baby" instead of "cheese"! It gets them everytime!
Don't forget to set your phone to record the whole thing!
7. DIY
There are so many different things out there that you can use to let people know that you're expecting! If you can't find exactly what you want that is New Year's themed, you can also do it yourself!
With things like this cut file, you can use this "We're expecting 2021 to be a great year" announcement to go on anything! From a wine glass to a tumbler or coffee mug, the options are endless! If you don't have a Cricut, you can always find a trusted friend to help you with the process!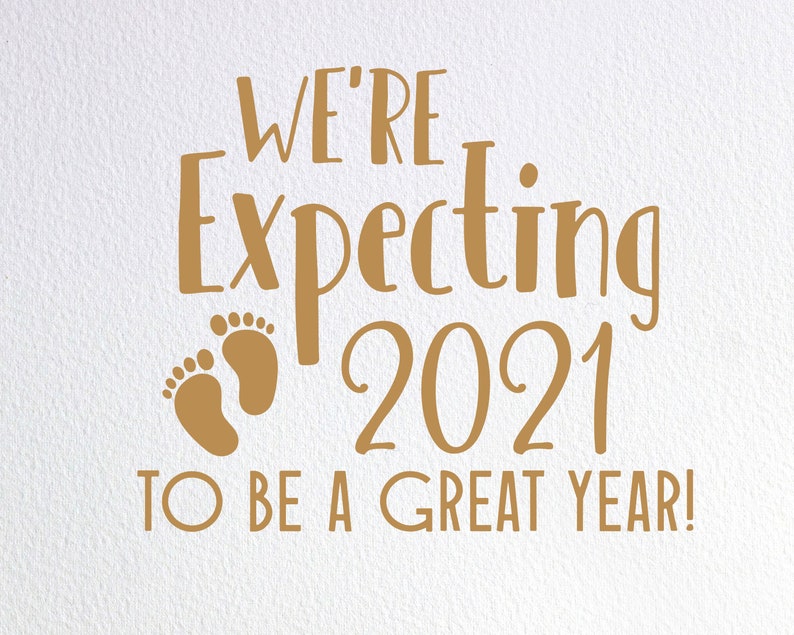 8. Card
As always, never underestimate the power of a card! It's adorable and will be something that the receiver of the card will treasure for a lifetime!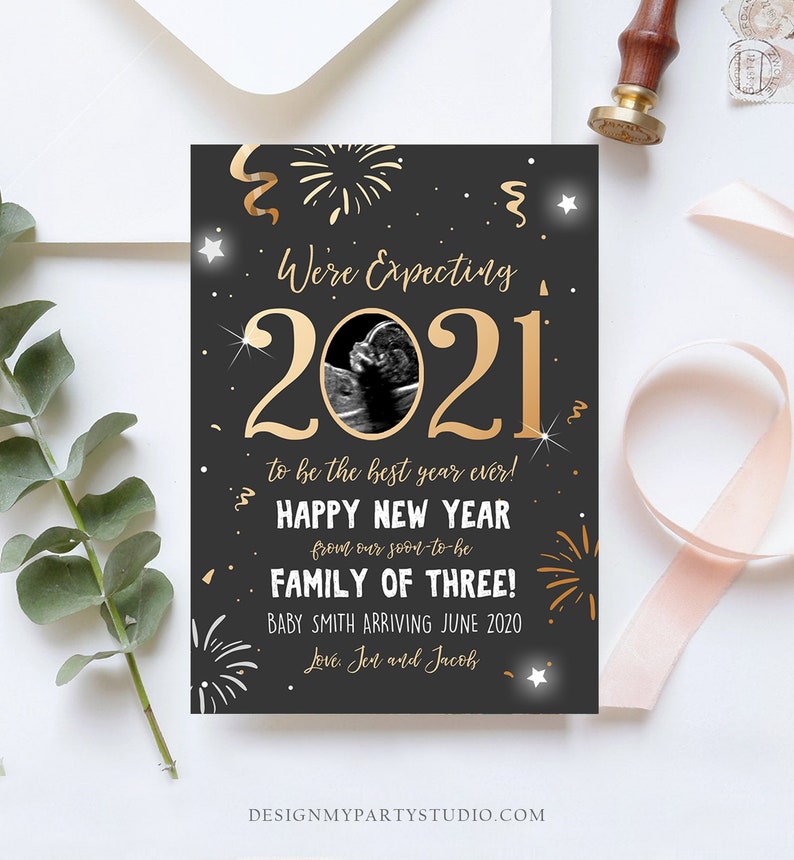 Virtual New Year's Announcements
After sharing your news in person with close friends and family, many people spend a great deal of thought and effort into sharing their news virtually through social media and other outlets. If you're planning on letting everyone know about what the next year will bring on New Year's Eve or New Year's Day, you should definitely check out the following…
9. New Year's Resolution
One of the most popular traditions for the new year is to make resolutions! What better way to announce your baby's upcoming arrival than to add it to your list of New Year's Resolutions? You and your spouse could pose holding a sign and post it to your social media accounts!
If the baby has a big brother or sister, it could also be a great idea to get them in on this announcement! Have the older sibling hold up a sign of their New Year's Resolutions with the last one being "become a big sibling". This photo op will be absolutely adorable!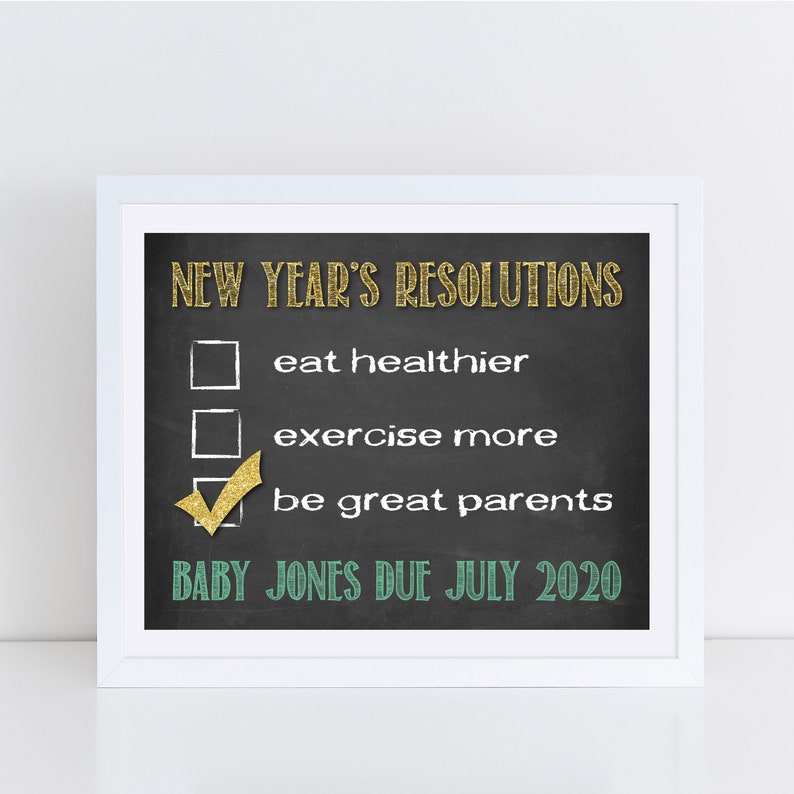 10."We're Expecting 2021 to be a Great Year"
Incorporating word play is always fun and clever! You can incorporate this onesie surrounded by other New Year's items to show your friends and family your exciting news!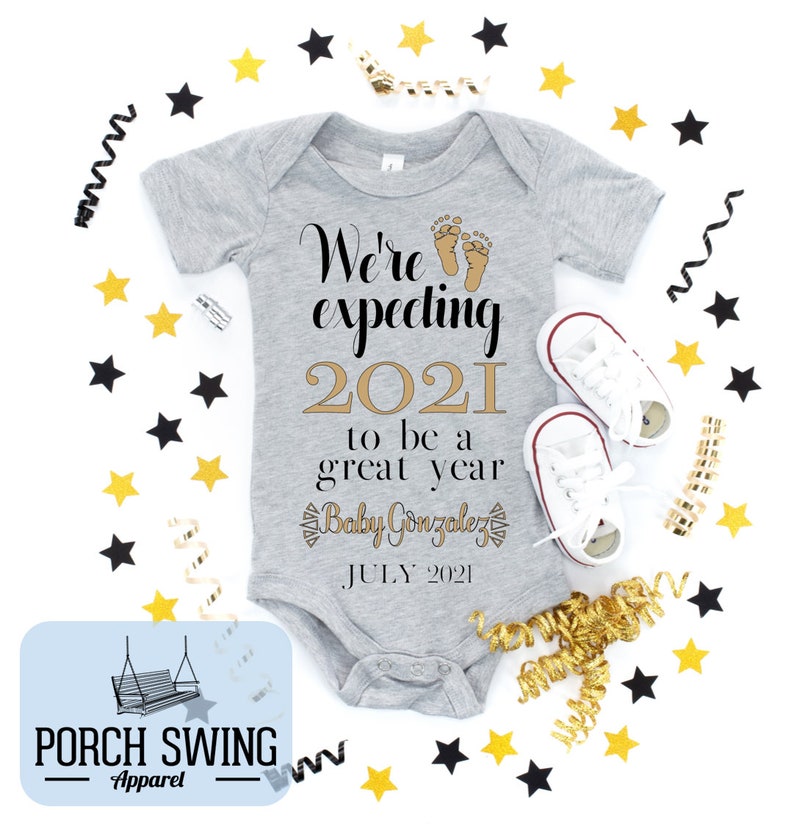 11."New Year, New Baby"
This sign can be printed and incorporated into a picture of you and your spouse or simply baby items like a onesie or booties. It's perfect with the traditional New Year's color scheme of black and gold, and leaves a lot of room for creativity with your post!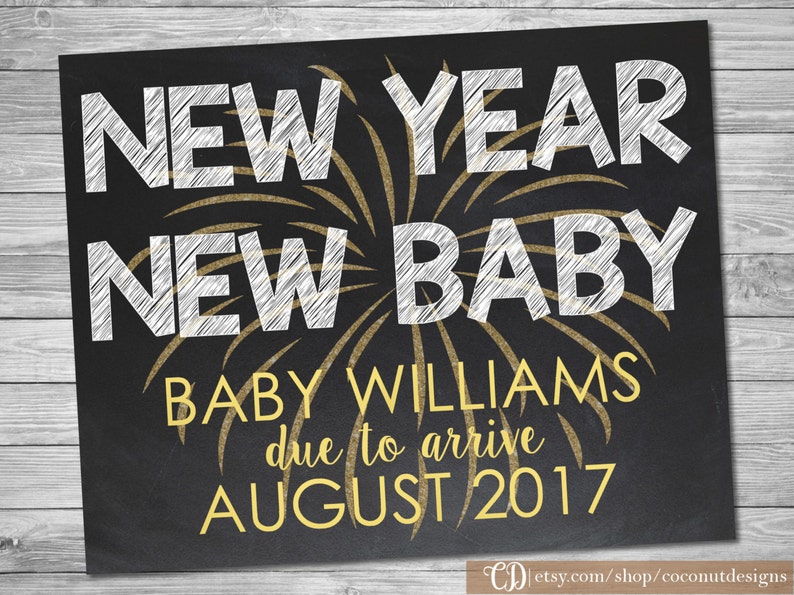 12."Popping Bottles"
Did you know that you can even get a digital file of a premade pregnancy announcement? With this "Popping Bottles" play on words announcement, you can simply send in a picture of your ultrasound, and they will create the perfect pregnancy announcement for your social media!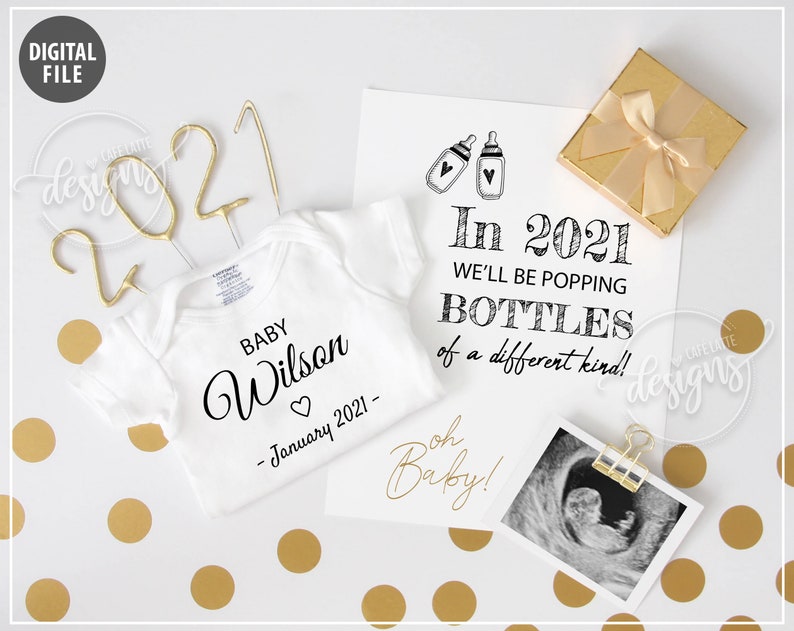 13."New Year, Sweet Cheer"
This is another adorable digital announcement that can be made custom! We love how sweet and delicate this is in showing others all of the exciting things to come in the year ahead!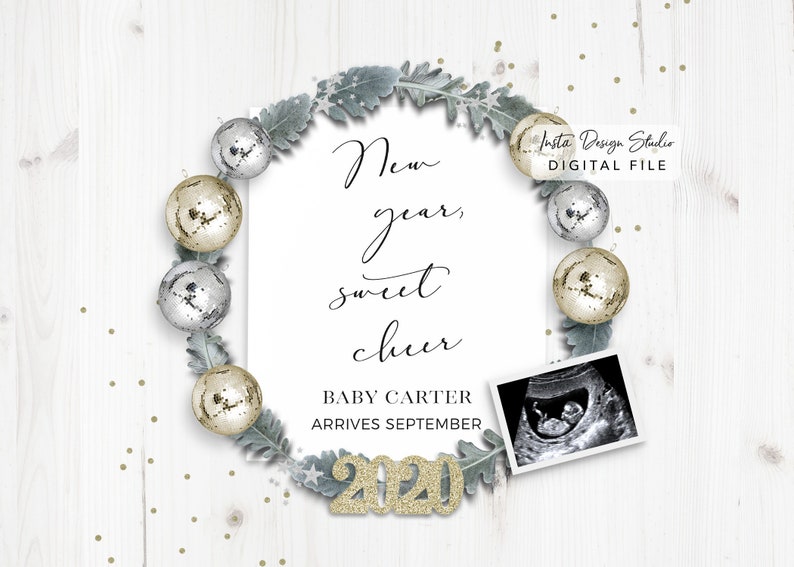 In Conclusion…
The promise of a new year filled with endless possibilities is always exciting! The promise of a new year that will bring a precious little miracle is absolutely the best! Take time this New Year's to cherish all of the special moments that you and your spouse will be a part of by sharing your news!
We hope that you are absolutely inspired by these New Year's pregnancy announcement ideas! If you are searching for even more inspiration for different kinds of announcement inspiration, be sure to check out our other blog posts here!
Below is a Pinterest friendly photo… so you don't lose this post!
Other Posts You Might Enjoy…..
The 12 Best Podcasts for Pregnancy + 9 Podcasts for After Birth>>> Click Here
How to Choose a Healthcare Provider for Your Pregnancy>>> Click Here
9 Natural Remedies For Anxiety While Pregnant That ACTUALLY Work>>> Click Here