Being a new mom requires a lot of grace, patience, and faith in the Lord. Keeping up with your prayer time and reading your Bible are challenging when you're in the trenches of motherhood. Devotionals are a great way to connect with God and continue to study his word even when you feel like you barely have any time to yourself.
Whether you are looking for a bible study for new moms or uplifting and funny devotionals to keep your spirit lifted, there are plenty of great resources out there. We hope to help you find the best new mom devotional that fits the season of life you're in.
At Bless Our Littles, we like to talk about things we love and think you might enjoy too. Some of the links on this page may be affiliate links (see disclosure here). This means we will receive a commission if you click on a link and make a purchase. This is no extra cost to you. There are some products we have tried and others that we haven't but think would be helpful to you!
---
Best Online Devotions for Moms
If you're looking for a devotional you can read online, Christianity.com shares weekly devotionals for women out of the NIV Mom's Devotional Bible. Published by Zondervan, these words of wisdom are intended to encourage and uplift moms by reminding them of God's promises. If you're looking for weekly words of encouragement that are easily accessible, this devotional may be a great fit.
Proverbs 31 Ministries is a non-profit Christian ministry that seeks to help women grow in their relationship with Jesus. Their website has a library full of free resources to uplift you in every season of your life. In addition to this, they offer daily online devotions to help you stay encouraged and look at your life through the lens of God's word.
iBelieve.com is another Christian site that has plenty of blogs, articles, and other helpful resources to assist women in dealing with the unique challenges they deal with in today's world. On the website, they offer a daily Bible verse as well as a daily devotional from one of their many writers. Devotionals from other ministries are also featured on their site, which makes it a great resource for moms who are looking to have some variety in their daily reading.
Although they're not specifically meant for moms, Today is a daily devotional for any disciple who needs guidance. The Bible can often be overwhelming and it's hard to feel renewed and refreshed when we're in the trenches. These devotions are meant to help you feel encouraged and renew your faith in God on a daily basis. The devotional library on the site is a great resource that allows you to read through the entire devotional archive. It also allows you to search for devotions by a specific topic or author.
Each month, I have a free live workshop for moms to gather and hear Biblical advice on all things motherhood. Join me and all the mamas in the Bless Our Littles family, as we grow together in our faith and better ourselves as parents!
---
Best Devotional Books for Moms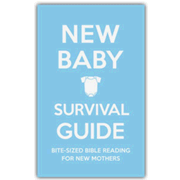 Being a new mom is a wonderful blessing, but it also means your life looks a lot different than it did before. Finding time to read the Bible, let alone dive deep into studying it, is often difficult as a new mom. This book of devotions for new moms is filled with bite-sized readings from the book of Psalms as well as encouragement and practical tips for motherhood.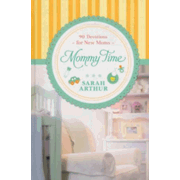 This book was written by a new mom who knows what it's like to deal with all the challenges of motherhood. It makes a perfect gift for yourself or another new mom in your life. Sarah Arthur wrote this book of devotions with the hope of showing new mothers that God is still in control, even when life is chaotic.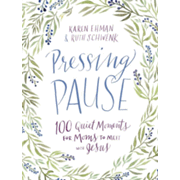 If there's one thing new moms need, it's a quiet moment to themselves. However, quiet, peaceful moments are hard to come by and pressing pause is easier said than done. The devotions in this book offer you a word of hope and a peaceful moment with the Lord. Pressing Pause is the best devotional for stay-at-home moms who truly have a difficult time finding a quiet moment in their day.
https://www.christianbook.com/midnight-lullabies-moments-peace-for-moms/lauren-eberspacher/9781546035190/pd/035191?event=AFF&p=1218236
In this book, Lauren Eberspacher shares not only the incredible moments of motherhood but also the difficult ones. Many new moms are told to enjoy every moment, but are unprepared for the anxiety, loneliness, and depression that can sometimes follow. Full of hope and truth, these devotions for tired moms will help you connect with the Lord even in the most challenging times.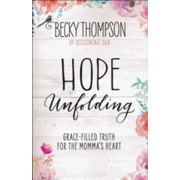 As a new mom, your head is often filled with questions about your worth. At the end of the day, you may wonder if you're doing enough and if you're becoming the mom God has called you to be. On both the good days and the bad days, new mothers need hope that the Lord is still with us and will never leave us. This book is filled with devotions that are bound to remind you of his promises and the truth of his word.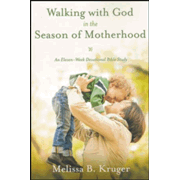 No matter what season of motherhood you're currently in, it's likely that you feel busy most of the time. This eleven-week Bible study is meant to help you grow with God in every season of motherhood. Each week of this study offers wisdom and readings specifically related to mom-related topics. The Bible verses are written out for your convenience, and the last day of the week has a devotional designed for reflection.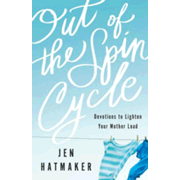 Laughter truly is the best medicine sometimes, but in the early stages of motherhood it can be hard to find joy. Out of the Spin Cycle is filled with light-hearted and funny devotions for new moms. This book of devotions covers a wide range of topics from marriage to comparison. Finding a Bible study for new moms can be difficult, but these devotions are specifically designed to fit into the small moments you have to reflect every day.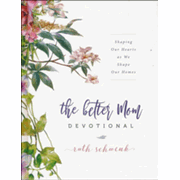 We all desire to be the best moms we can be but we're not always sure how to get there. This book of devotions reminds moms everywhere that it's not about what we do, but instead about who God is. Filled with 100 devotions, plenty of scriptures, prayers, and reflections, this book is perfect for new moms. Changing our actions is sometimes a good thing, but the Lord desires to change our hearts.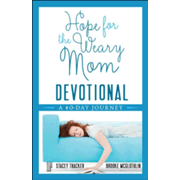 Jesus offers hope, peace, and rest for all who are weary. But in order to allow his promises to fulfill us, we have to have a relationship with him. The purpose of this devotional book is to 40 truths that every mom needs to know about God. Each day's devotion includes a prayer, scripture, and a way for you to reflect on what you've learned. After taking this 40-day journey, you will find yourself full of hope instead of feeling weary.
After I had my daughter, I spent some time writing a devotional for busy moms. This 30 day devotional will encourage you in your faith and help you to be the mom God is calling you to be… in under 15 minutes a day! There is journal prompts to help you dig deeper in your faith and make real changes as a mom!
---
3 Best Christian Apps for Moms
Whether you're a working mom, a stay-at-home mom, or a soccer mom, we all have something in common. Moms are always on the go. Pray as You Go is an app designed to help you stay connected with God even when you're on the move. Every day a new prayer session is added to the app to help create a framework for your own prayer life. This app also gives you access to many tools and resources to help you grow in your quiet time with the Lord.
She Reads Truth is another helpful app for moms with busy lives. It's also a great way to connect with other women who are engaging in the word of God. Complete with daily reading plans and an online community, this app is a great way to study the Bible without having to come up with your own reading plans. The creators of this app also created He Reads Truth, which is a similar app created for men. If you and your husband read the Bible together, these resources would be a great fit for your family.
Being a mom is a full-time job and we are often busy from the time we wake up to the time our heads hit the pillow at night. The idea behind the First 5 app is that we glorify God by giving him the first five minutes of our day. Even as busy moms, finding five minutes before our children wake is something we can manage. This is a great app filled with daily readings, Bible studies, and devotionals. The First 5 app was developed by the creators of Proverbs 31 Ministries and goes along with their online bible study program.
---
To Wrap Up…
Before your children came along, you may have spent hours praying, reflecting, and studying the word of God. Now it may feel like you barely have time to take a shower, let alone read and study the Bible. Devotionals are a great way to study the word of God in small moments. God sees your heart and desire to spend time with him, even if you only have a few moments to spend with him everyday.
Below is a Pinterest friendly photo… so you don't lose this post!
Other Posts You Might Enjoy…..
14 Best Christian Mom Books to Help Find Encouragement and Hope>>> Click Here
5 Characteristics of a Godly Mom – Living in an Ungodly World>>> Click Here
13 Bible Verses for Postpartum Moms for Encouragement>>> Click Here