You and your spouse just got the most exciting news you've had in a while! You took a pregnancy test, and it says "positive"! Another baby is on the way, and the two of you couldn't be more thrilled! Once you have time to celebrate together, it's time to think about how to tell your child your are pregnant!
Maybe you've spent months or even years dreaming about how your child will be as an older sibling. Will they get along? How will they react to the news? All kinds of questions might be running through your head!
Telling your first born child that they are going to a big brother or sister is one of the most special moments that you will have. So, we're here to share some ideas on how to tell your child you're pregnant!
At Bless Our Littles, we like to talk about things we love and think you might enjoy too. Some of the links on this page may be affiliate links. Which means we will receive a commission, if you click on a link and make a purchase. This is no extra cost to you. There are some products we have tried and others that we haven't but think would be helpful to you!
7 Cute Ways to Tell Your Child You're Pregnant
Now that you've got all the tips for sharing the news of a new baby to the older sibling, it's time to talk about all things announcement! As stated above, there are so many adorable and creative ways to tell your child that they are going to be a big brother and sister! Here are just a few of our favorites…
1. Scavenger Hunt
If your child is preschool age and older, it may be really fun to make the announcement into a scavenger hunt! Send them around the house, leave them some clues and goodies along the way, and let them know that the biggest surprise is at the end of the hunt!
Once they get to the end, you could present them with something "baby related" or you could simply give them a letter or a card that lets them know! Either way, they're surely to be thrilled!
2. Custom Cookies
What little one wouldn't love a baby announcement in the form of cookies?! Get some custom cookies that let your child know that a little one is on the way, and watch them smile from ear to ear while they enjoy their new treat and day dream about playing with their new sibling!
3. T-shirts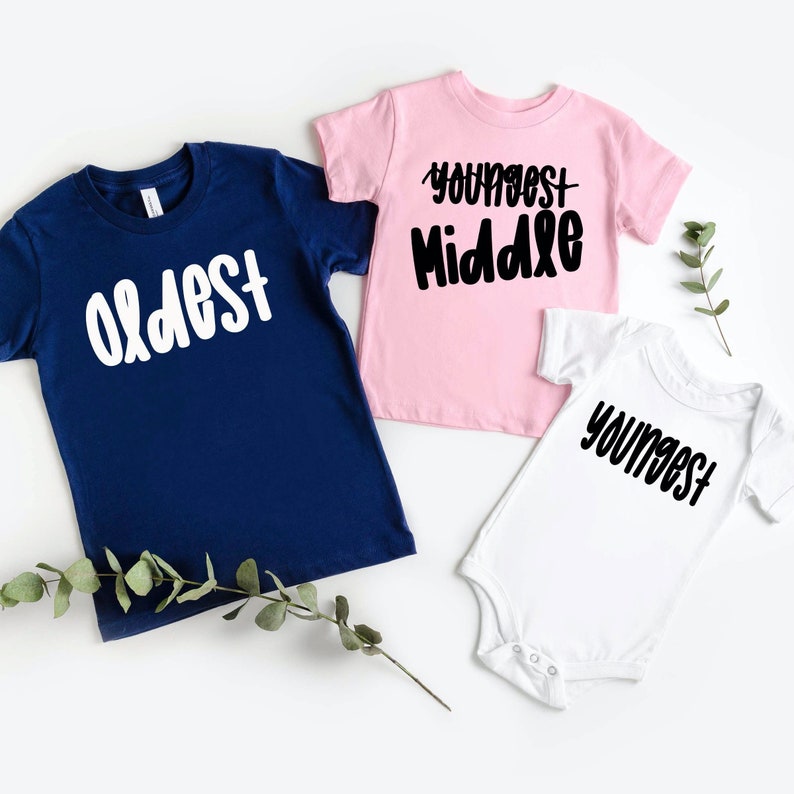 Wrap up these adorable t-shirts as a gift and watch your kids as they realize what they mean! While it may be ideal to execute these particular t-shirts with a soon-to-be family of five, there are a multitude of t-shirts out there that say "big brother" or "big sister" that will work just as well!
4. Custom Puzzle
This announcement idea is one of our absolute favorites! Did you know that you can get a custom puzzle made for just about anything? Well, you can! How fun would it be to watch your child put together their new puzzle and learn that they are going to be a big sibling! So fun!
5. Show the Ultrasound
Sometimes keeping it simple is best! For most children, ultrasounds are confusing! It's hard to know exactly what you're looking at in ultrasounds, and that's why it makes for such a good announcement idea! Even with your youngest little one, it could be so much fun to show them the picture and watch them make guesses as to what they are looking at!
6. Stuffed Animal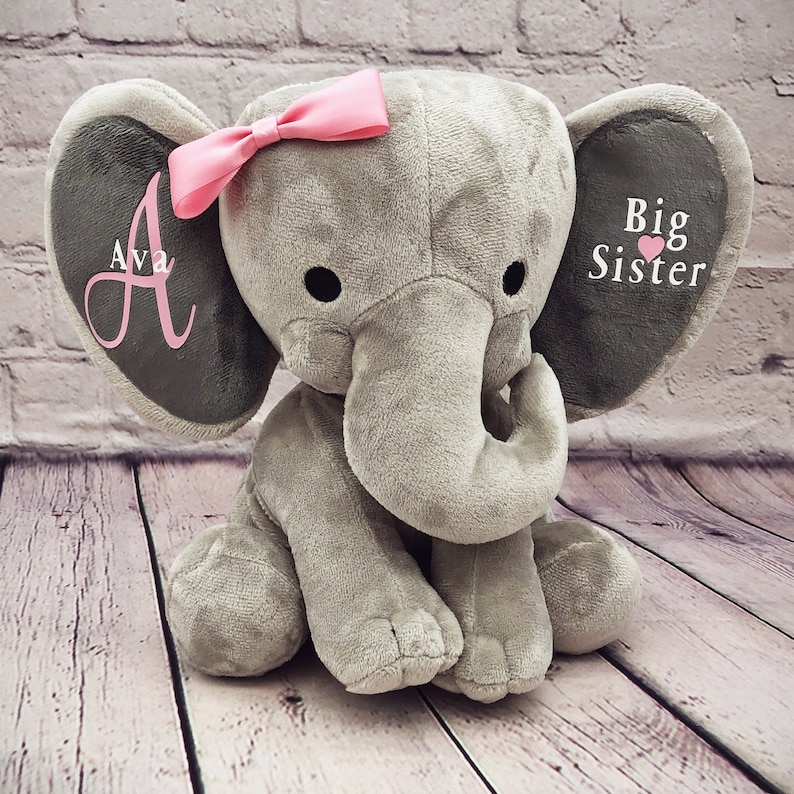 This idea for telling your child you're pregnant is perfect for a younger child! You could even say that the stuffed animal is a gift from the baby because it is excited to meet its big brother or sister! It's a win-win. Your child get a new stuffed animal and they learn they are getting a baby sibling all in the same moment!
7. Storytime
There are so many books out there about becoming a big brother, big sister, or big sibling! You Were the First is a beautifully written and subtle announcement that a baby sibling is coming! It's great for all ages because it doesn't come right out and say, "You're going to be a big sibling". It hints at it throughout!
Cuddling up with your child at the end of the day to read this as his/her bedtime story is a beautiful way to share this precious memory together.
[The Birth Course that SAVED my daughter life]
---
Tips for Sharing the News
There are countless adorable ways to tell your child you're pregnant, but before you jump into planning an announcement, there are some things that you'll need to consider! Here are some of our tips for sharing the news with your child…
Consider the Age
Every age sibling is going to react differently to different types of pregnancy announcements. There are a lot of reasons for the, but the most important reason is because different ages means different levels of development. For example, if you do an elaborate announcement with your 2 year old, chances are, they won't fully understand.
Here are some tips for sharing your exciting news with various age groups…
0-2 Year Olds
A toddler has very little concept about what having a sibling will mean. On top of this, even if you explain that mommy has a baby in her tummy, they won't fully grasp that until the baby actually arrives.
Because of this, it's important to keep pregnancy announcements to toddlers very simple and straightforward like a "big sibling" gift. In most cases, they will mimic your reaction to the news and will get really excited no matter how you announce that a baby will be coming soon!
3-5 Year Olds
Preschool age children have a better understanding of pregnancy and what it will mean to have a sibling. Chances are, they have friends who have little brothers and sisters, so you can reference this when announcing that they will be getting one too!
Announcing that you're expecting a baby to your preschooler can definitely have more of a fun and creative approach! This age group would also love a gift, but would also appreciate and understand a more elaborate announcement!
6+ Year Olds
Once your child is school age, they are fully aware of what it means if you tell them that mommy is pregnant. They are old enough to fully grasp the positives of having a little sibling, but also some of the negatives like having to share toys and attention.
Because of this, it's important to approach your announcement with a little more care and delicacy depending on your child and his/her personality! And that brings us to our next tip…
Consider their Personality
When you're deciding how to tell your child you're pregnant, it's incredibly important to consider the child's personality. If your child has been begging for the past 3 years to have a little brother or sister, then they will definitely love a grand gesture of an announcement! It is something that they've looked forward to and the announcement has been long anticipated and will definitely be a celebration to remember!
Not every child, however, may share this same excitement, and that's okay! Maybe your child is more on the shy side? Maybe your child has expressed that they like being the only child? If this is the case, you may want a softer approach!
Make it Fun
No matter your child's age or personality, you should always try to make your pregnancy announcement to them fun! By making your news fun, they will already start to associate happy and positive feelings with the new baby!
Give Time
No matter how much thought, effort, and time you put into planning to tell your child, he/she may still react with hesitation. They may even react with disappointment. Just remember, that it is okay. Validate any and all feelings that your child is having.
Chances are, if your child isn't immediately thrilled by the exciting news, they will come around! Some children just need more time to process! Your child might even have some questions to get clarification. Just remember that whatever you do, make sure that you are there for your child, reassure them of your excitement, and answer any questions they may have of this new change that is coming.
In Conclusion…
Announcing the news to your child is just one of the many wonderful things to look forward to when a younger sibling is on the way! We hope that we were able to provide you with some fun and exciting inspiration for this fun and exciting time in your life!
Once you share the news with your child, you'll be ready to share it with the world! Be sure to check out our other pregnancy announcement ideas for even more fun inspiration!
Below is a Pinterest friendly photo… so you don't lose this post!
Other Posts You Might Enjoy…..
The Sweetest First Time Grandparent Announcement Gift Ideas>>> Click Here
13 Unique Ways to Announce Pregnancy to Family in Person>>> Click Here
7 Wonderful Ideas for Your Rainbow Baby Pregnancy Announcement>>> Click Here
If you purchase through my affiliate link, I will give you my 40 Week Pregnancy Devotional! Just send me a copy of your receipt and I will send you over the bonuses!