You and your spouse just found out the most exciting news! You are expecting a precious little one! Once you've had your time to celebrate together as a couple, it's time to start thinking about how to share the wonderful news with those that are closest to you!
There are countless ways that you can announce to your family and closest friends. Whether you want to do it in person or virtually, it can be overwhelming looking through all of the different ideas out there!
Fall is such a magical time of the year. The leaves are beautiful. The weather is gorgeous. People just can't get enough! If you're wanting to announce your pregnancy in the fall, there are so many wonderful aspects of the season that you can use to your advantage with your announcement!
Here are our top fall pregnancy announcement ideas that will inspire you to share your news in the most perfect way!
At Bless Our Littles, we like to talk about things we love and think you might enjoy too. Some of the links on this page may be affiliate links (see disclosure here). This means we will receive a commission if you click on a link and make a purchase. This is no extra cost to you. There are some products we have tried and others that we haven't but think would be helpful to you!
This fall themed scratch off announcement is absolutely adorable! What a unique and fun way to announce your pregnancy!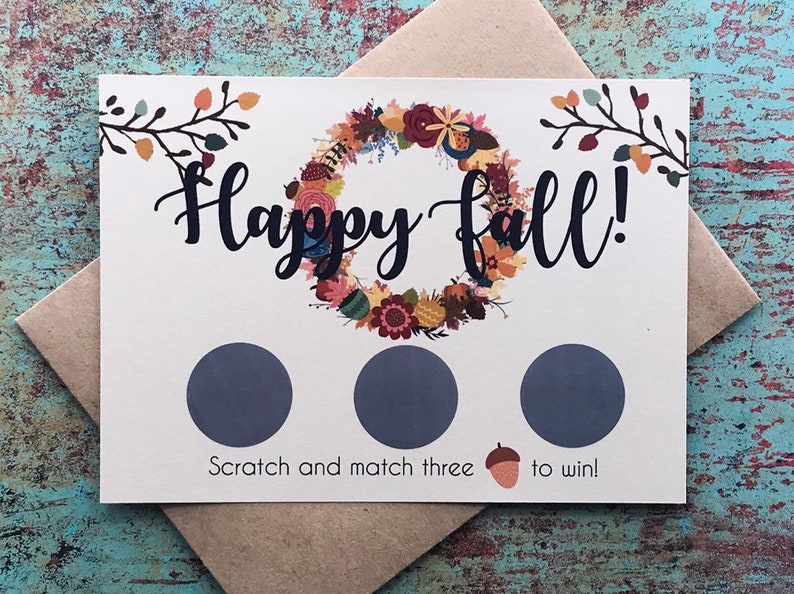 The great thing about this scratch off is that you can hand them out at your next family gathering or you can send them by mail! Either way your family and friends are sure to be thrilled with your precious news!
Continuing with the adorable idea theme, this "Little Pumpkin" package is just that! Can you even imagine the look on your parents' face as they open this gift and realize that this precious little pumpkin symbolizes the newest little pumpkin arriving in just a few short months?
Along with the precious fall pregnancy announcement idea, this one can also be given out in person or by mail! No matter which way you use this, be sure to capture it on video because the reaction is going to be priceless!
Wearing your announcement like this "Expecting a Little Pumpkin" shirt is too much fun! It brings a lot of excitement because you and your partner can guess who will be the first to notice! Once the first person notices what your shirt means, the news and excitement will spread like wildfire at your fall gathering!
Not to mention, this announcement idea is incredibly stylish! Paired with a cardigan, jeans, and some boots, wearing your exciting news is sure to be unforgettable!
Maybe instead of the mom-to-be wearing the exciting news, an adorable big brother or sister might want to steal the show with a fall themed shirt announcing their new status!
The new big brother or sister-to-be is sure to be showered with hugs and kisses once your closest family and friends realize what their shirt means! It will also give your little one a chance to really feel involved and get excited about this new, big upcoming change!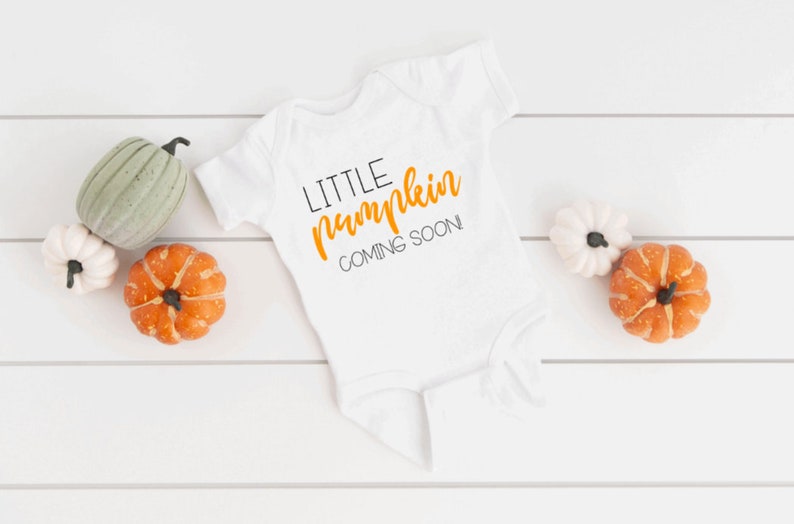 Continuing with the clothing theme, many parents-to-be decide to surprise future grandparents, aunts, and uncles with a onesie. This fall themed onesie is sure to get quite the excited reaction!
6. Decorate a Pumpkin
A great way to utilize a fall theme with the announcement of your baby's arrival coming soon is by incorporating pumpkins. There are so many different ways you can utilize this infamous fall decoration. Whether you have it "hidden in plain sight" amongst your other pumpkin decor when you have friends and family over or you simply bring it as a gift, you just can't go wrong.
Here are some different ways you can use pumpkins to spread the good news…
– 3 Pumpkins
Maybe you could decorate your front porch or stoop with three pumpkins? More specifically, you could decorate the front of your house or your mantle with 2 large pumpkins and 1 small pumpkin!
As you have guests come over, you could see if they pick up on the subtle hint! And, for your friends and family who can't visit, you could simply send them a picture and see if they can guess! Too fun!
– Carved "mommy" pumpkin
As it gets closer to Halloween, you and your spouse could carve a big pumpkin to have a big "heart" hole front and center. Then, you could place a mini pumpkin inside!
Again, you can see if people will notice this fun pregnancy announcement, or use it as a picture to friends, family, or social media and see all of the fun reactions!
– Painted pumpkin
Lastly, painted pumpkins are all the rage these days! You could simply paint and decorate your pumpkin in a way that shows your news! You could paint your pumpkin to say "little pumpkin coming soon" or some other fun phrase to let others know the exciting news!
7. Find the Pumpkin
This is another pumpkin-themed fall pregnancy announcement idea with a twist! Instead of simply decorating a pumpkin, you could involve your family and friends in a fun game!
This would be so much fun with little ones, but, honestly, it'd be just as fun with adults! Similar to an Easter egg hunt, you could hide little pumpkins all around the house and/or yard. Let them know that there is one "special pumpkin" and if you find it, you get a prize! Then, when the winner finds it, you could make the prize your announcement with a onesie or your ultrasound picture!
Seriously, this game will be something that your friends and family will never forget!
8. Ultrasound in the Pumpkin
With our last pumpkin idea, you could simply hide your ultrasound picture in a carved pumpkin! Ask a family member (such as your parents or in-laws) to open it up, and watch the shock and excitement fill their faces!
These fall booties are the epitome of sweetness! Not only do we adore the booties themselves, but we also love the "Falling in Love" announcement that they will read when the box is opened!
If you're looking for something classic, you can never go wrong with a card announcing that you are expecting! Maybe it's a particular person's birthday and you give them this card instead? Or maybe you mail this to a friend or family member? Whichever way you do it, this "adding a pumpkin to our patch" card is sure to make for an exciting announcement!
Halloween Themed Ideas
If you find out you're expecting in October, you can share your news with something fall themed, but you may want to go with something a little more spooky! Fall is also Halloween season, so here are some Halloween themed announcement ideas!
How adorable are these "Mummy" and "Deady" shirts? Perfect for a family who loves to throw a fun Halloween party, just wait until you see guests put the puzzle pieces together and realize just what your shirts are saying!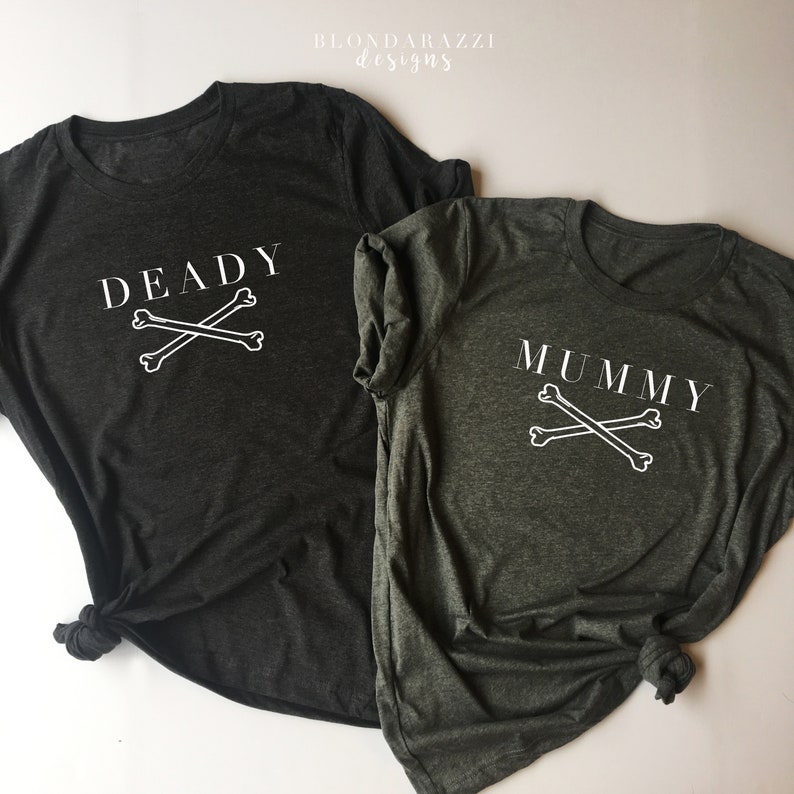 12. Costume
There are so many Halloween costumes out there that could give away your most exciting surprise! The best costumes are ones that you and your spouse can coordinate. Here are some adorable Halloween costume ideas that will help share your most exciting news…
Construction Worker and "Bump Ahead" Sign
Let your husband be the construction worker, and you can simply wear all black with a "bump ahead" sign over your stomach!
Thing One, Thing Two (and Thing Three)
Your spouse can be Thing One, you can be Thing Two, and Thing Three can be a little circle just on your belly! So cute and straight to the point!
Chef and "Bun in the Oven"
Give your spouse a chef hat, and you can be the oven with a bun right on your belly! This one is a little less straightforward, so it'll be a lot of fun to watch everyone connect the dots!
"Ice, Ice, Baby"
This costume idea may be the hardest to get! You and your spouse can both be ice. When asked, you can share that you're a favorite song, and just wait as you see if your family can finish it and realize the baby is actually in your tummy!
13. Candy Bowl
Fill your candy bowl with all candies that are baby related and just wait for people to connect the dots! From Baby Ruths to Baby Bottle Pops, your friends and family will be sure to get the hint!
In Conclusion…
Any time you announce a pregnancy to close family and friends is sure to be a memory that lasts a lifetime! At the end of the day, no matter how you choose to do it, those that you love are going to be simply thrilled! But, even if that's the case, it is still so much fun to plan something a little extra special for everyone involved!
We hope you found some exciting inspiration with our fall pregnancy announcement ideas, and if you're expecting, be sure to check out our other posts, such as our winter pregnancy must haves!
Below is a Pinterest friendly photo… so you don't lose this post!